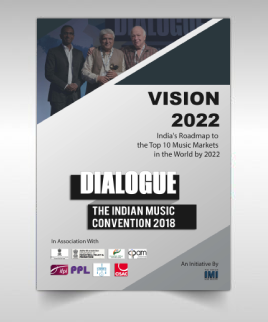 On 22 August 2018, the inaugural Dialogue: The Indian Music Convention 2018 was held in Mumbai, India. The conference theme 'VISION 2022: India's Roadmap to the Top 10 Music markets in the world by 2022' brought all the stakeholders of the Indian recorded music industry, under the same roof.
This was a historic day, since for the first time, all stakeholders came together with a united vision to be among the top 10 ranked music markets globally in the International Federation of the Phonographic Industry (IFPI) rankings by 2022.
The Indian Music Industry (IMI) is grateful to seven members who have supported the corpus of the National Group through the tough times. Now that the worst is behind us and we have seen two consecutive years of an average 25% growth, I urge all the record labels to make financial contributions to the IMI corpus. You have witnessed our outreach programs in Chennai, Chandigarh and Kolkata and now Dialogue 2018 in Mumbai. We have more plans in store to ensure continued engagement for all stakeholders for the development of the record music industry.
The tailwinds are in our favor and technological innovations have created great economics in various sectors. Football is still the same game as it was a 100 years back, but today it's a $28 billion-dollar industry. Closer home, Kabbadi played in the street corners and paddy fields is now a $3.3 million industry. There is a digital music explosion underway and the inaugural Dialogue 2018 is only the beginning of the discourse on how can the Indian music industry ride this $17.3 billion wave, also to identify the headwinds namely Price Regulation & Controls, Fair Value to creators, Value Gap, Digital Piracy a few to name and figure out how to tackle these headwinds. IMI will always, along with its partners like PPL and IPRS and count on their support to pave the path towards Vision 2022.
The sessions were carefully curated to ensure that the voices across sectors and regions are heard. IMI endeavors to make Dialogue: The Indian Music Convention, a yearly event.
Blaise Fernandes
President and CEO
The Indian Music Industry (IMI)
__________________________________
Download the full report here.